Doing rounds to the Virginia child support offices so that you can pay for child support can be inconvenient or even unreliable. You may not have the time to do it and at times you may not be able to adhere to the rules and meet the deadlines. This can translate to hefty fines and the best way to avoid that is to have information at your disposal all the times. With the online service for child support, you can achieve that.
How to login
The hard part is gone when you have a login account. You will be able to access your account in the shortest time possible, make payment and fulfill your parental responsibilities. To sign in, you have to be an account holder and then follow the steps below:
Step 1: Click here
Step 2: Insert username, password and then tap the sign in button.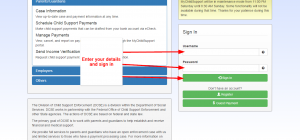 How to reset your account password if forgotten
A password can be tricky to remember depending on how complex you created it. You should find a way to remember your password without writing it somewhere. However, you are bound to forget especially if you are a newcomer or have just changed it. The process on how to reset it includes:
Step 1: Click the '?' sign, next to the password space and click as shown.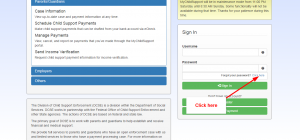 Step 2: Enter your details as shown below then click the Go button.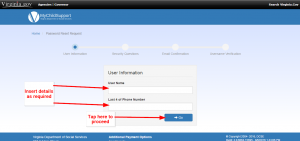 Proceed to 3 more steps before you can reset your password.
How to retrieve your username
Although you are not supposed to change a username to your account, it can get lost. There are few cases of a lost username. To retrieve it, you need the following steps:
Step 1: Tap the '?' sign next to the username space and click as shown.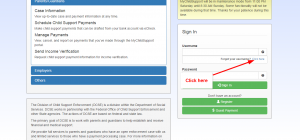 Step 2: Insert your email and click Go.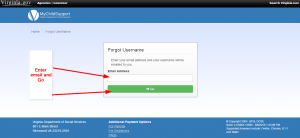 How to enroll
Parents with child support responsibilities can register for the first time online and create a login account. It is simple and empowers you to become a responsible individual towards providing for your child or children. To enroll use the procedure below:
Step 1: Click the register button.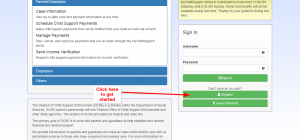 Step 2: Tap as shown below.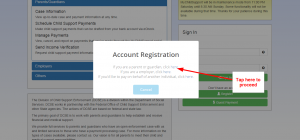 Step 3: Enter the details as required and click Go.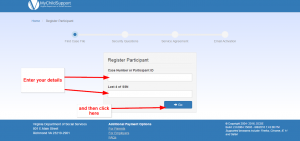 Three more steps will follow before successfully enrolling for the service.
How to make payment
You can pay for child support either using your bank account or credit card online. To do this use the steps below:
Step 1: Click the Guest Payment button.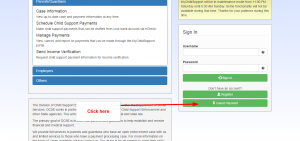 Step 2: Select the mode you want to pay with. Assuming you have selected the bank, click on that section.
Step 3: Fill out the form with details as required and then click Next.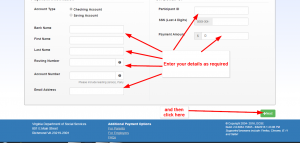 Go through 2 more steps to complete the process.
How to manage your account online
After you become a sign in member of the site, you can now manage your account online. It helps you make payments for child support with ease without having to visit the child support department of Virginia. On top of that, you can check the status of your account.