There are those parents who do not want to live up to their responsibilities of child support. The reasons could be genuine or not. Whichever the case, you, as the custodial parent, have to take action and file for a complaint. For the court or the department of revenue child support services in Florida to assess the status of the case, you have to file the complaint and provide all the necessary details to speed up the processing.
How to File a Request in Case of Failure to Pay for Support
For the case or order to be enforced, they have to carry out their downs investigation to ascertain the condition and whether your case is genuine or not. Once this is done and they find out that your complaint is legitimate, they can enforce the order to the noncustodial parent to pay for child support. The steps in filing a complaint include:
Step 1: Go to this location.
Step 2: Find your local office.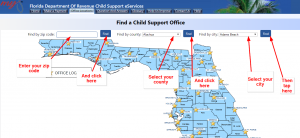 Step 3: Apply and file a complaint with the local child support office for investigations on that case.