An online tool that offers a way for parents to compute how much they owe for child support or are to receive is available for Minnesota parents. if you are separated or divorced, you can turn to the child support website in the state and have your way in terms of computing for child support.
How to compute for child support
You can follow the procedure below:
Step 1: Visit this link.
Step 2: Click as shown below.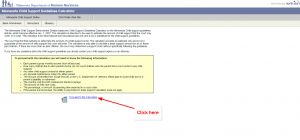 Step 3: Enter details of your child support agreement and then click calculate button.