When times comes to pay and the parent who is supposed to provide child support is not doing so, then you should file a complaint. In New Mexico, you can do this online and get the needed help with ease. It requires you to go through a certain process where you have to fill out a form to make a legitimate complaint.
How to File a Request in Case of Failure to Pay for Support
Information is key in this section. You need to provide a detailed description of the child support agreement with the non-responsive parent. This will help the child support officials to follow up on that case. The steps include:
Step 1: Access and download the form.
Step 2: Fill the fields as required.
Step 3: Read and accept by signing that the information you have provided is true.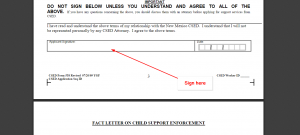 Send the filled file to the address:
Child Support Enforcement Division
PO Box 25109
Albuquerque, NM 87125