It is the right of every child to receive support from both parents. On that note, if the parents are separated, then the guardian or the custodial parent should seek support from the paying parent. You can file or apply for child support services with the division of child support enforcement in Delaware to enforce a child support order.
How to File a Request in Case of Failure to Pay for Support
It can happen to any parent. If you are in a situation whereby you are not receiving support as it should be, then you have the obligation of filing for compliant with the Delaware division of child support enforcement. The steps include:
Step 1: Access and download the form.
Step 2: Fill out the form as required. For a custodial parent, children, medical insurance, noncustodial parent and affidavit sections.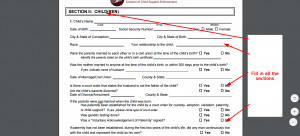 Step 3: Sign it and send to your local child support office.