Parents who want child support laws enforced have to take the next step of applying for such services, after which the details of the child and the paying parent will be processed before the order can be enforced. The child support enforcement agency is entitled to see such an order through so that the parent receiving support can do so to take care of all the expenses the child will incur.
How to File a Request in Case of Failure to Pay for Support
In the event that you fail to receive support from the other parent, then you are obligated to report it to the child support enforcement agency of Hawaii. To file such a request, follow the steps below:
Step 1: Access and download the application form.
Step 2: Fill in the form with the details of the parents, children, and expenses the children incur.
Step 3: Sign it below and send it to the local child support offices as shown below.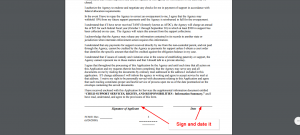 Customer Service Telephone & Fax:
O'ahu    692-8265;      fax number: 692-7060
Maui      243-5241;      fax number: 243-5161
Kaua'i    241-7112;      fax number: 241-3816
Hawai'i (Hilo)     933-0644;      fax number: 933-0300
Toll free number for Moloka'i, Lana'i, and Mainland (888) 317-9081