Payment of child support is mandatory if you are a noncustodial parent in Hawaii. You can find out how to go about the whole process with the online platform. if you are a registered user, it is easy to complete payments and give your child the needed financial support.
How to login
Those who already have an account can get started to managing their payments online for child support. However, you have to login and it entails the following steps:
Step 1: Go to this link.
Step 2: Enter your PIN and access code and then submit.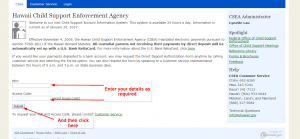 How to reset your access code
An access code you cannot remember is no good and that will prompt you to reset it and create a new one. To do this, you will have to verify that it is your account. The following steps will help you achieve this:
Step 1: Click as shown below.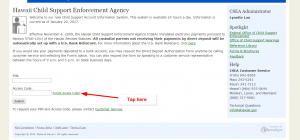 Step 2: Enter your PIN and submit.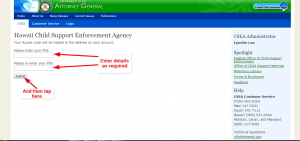 How to enroll
To enroll, you will need to have an access code and a PIN. You can request these two. Although it does not a direct online registration process, you can use the below contacts to request for the PN and access code:
Customer Service Telephone & Fax:
O'ahu    692-8265;      fax number: 692-7060
Maui      243-5241;      fax number: 243-5161
Kaua'i    241-7112;      fax number: 241-3816
Hawai'i (Hilo)     933-0644;      fax number: 933-0300
Toll-free number for Moloka'i, Lana'i, and Mainland (888) 317-9081
How to manage your account online
For those who have successfully enrolled for the online child support services, managing your account is easy. You can check the status of your account and access resources including the guidelines that govern how child support is enforced by the law. All this will give you a head start to being a responsible parent.