Parents, regardless of whether they are custodial or noncustodial can register for online child support services and have a login account. It helps them to comply with the set guidelines as you can manage your account online.
How to login
When it comes to signing in, you will have to do it now and then. Every time you log in, you should logout to prevent unauthorized persons from access your private information in your account. To log in, use the criterion below:
Step 1: Click here
Step 2: Enter your username and password and then click login.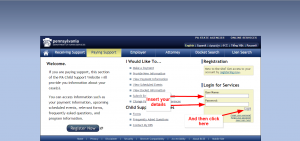 How to reset your lost password
The problem with forgetting your password comes when you cannot access your account. To log in, you will need to reset it and come up with a password you are familiar with. The steps include:
Step 1: Click the forgot password phrase.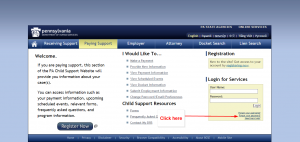 Step 2: Enter your username and verify.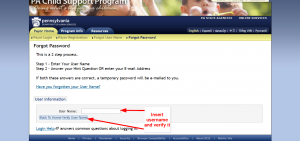 You will be taken through few more steps to verify your account before you can get your password.
How to retrieve your username
It is usually not a problem for many. This is not to say that you cannot forget your account username. When you are caught in such a situation, you can proceed as follows to retrieve it:
Step 1: Click the button shown below.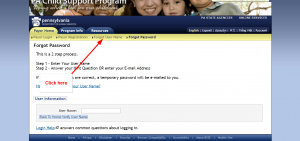 Step 2: Enter your social security number and email address and then submit.
How to enroll
The need for enrollment comes when you want to create an account. To do this, you will need to identify yourself and this includes providing the system with detailed information about yourself and the parties involved.
Step 1: Click register to enroll as a new user.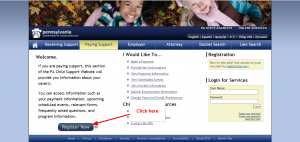 Step 2: Enter your details in the fields, read the agreement and click I Agree to proceed.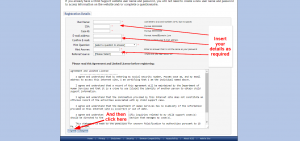 How to manage your account online
In Pennsylvania, there is a way you can make child support payments without having to go to the child support offices locally. It saves time and effort paying online as you will be able to know when you are supposed to pay and thus avoid penalties. Apart from that, you can access all child support resources the department has in store for parents.