A Utah parent who is seeking child support from the other parent can use the online calculator to know how much they will receive for child support. However, it might not be the exact figure you get as a result. For this case, the court will have to decide don the actual figure the noncustodial parent will pay. There are different parameters as contained in the guidelines which will be used to come up with the actual amount.
How to compute for child support
The procedure below will be used:
Step 1: Click here to get started.
Step 2: Enter the details as instructed in the worksheet and click continue.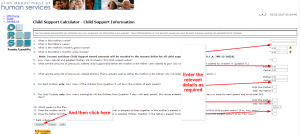 Once you are done, you will arrive at the child support obligation you owe.